Explore
This menu will stay with you throughout your visit to the Education Centre. Use the topics below to explore the centre and find the information you need.
What is:
Laminate Flooring
With the look and texture of wood or stone, laminate flooring is a tough and durable man-made product that is easy to clean, pet-proof and easy to install. Laminate makes a great choice for anyone looking for a floor they can fit and forget, even in the busiest parts of the home. With different thickness, widths and lengths, laminate is great for homes that want the look of wood or tile, but with a floor that delivers great value. Packed to the brim with easy living advantages, modern generation laminates are ideal for homes that want a good looking floor on a budget.

Laminate Construction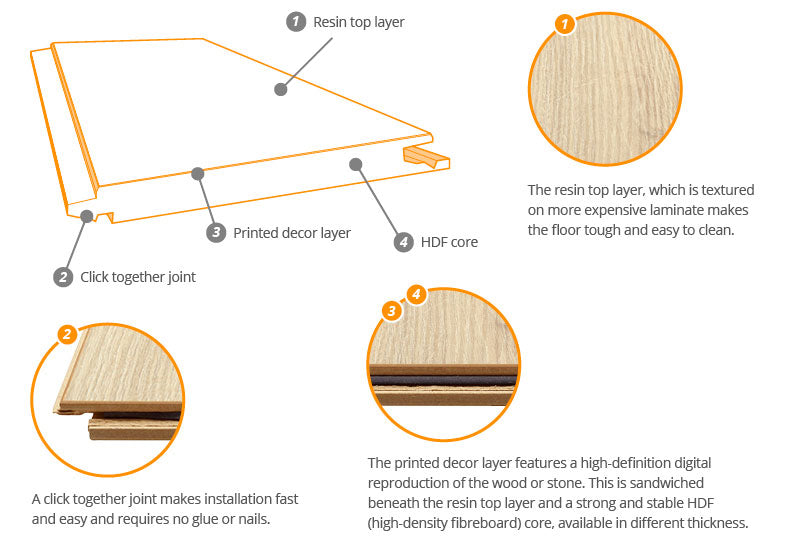 The printed decor layer of laminate flooring means that it can provide many different looks without trading anything in durability or ease of living. Laminate floors come in different thickness depending on the durability required. At UK Flooring Direct our laminate floors range from 6 to 12mm thick and come with a durability rating of AC3 to AC5. The AC rating is a way of determining the suitability of the laminate for the room in question. You might choose an AC3 rating for a bedroom and an AC5 rating for a busy office or shop.
Because of its man-made composition, laminate flooring is not hugely susceptible to shrinking or warping with changes in environmental conditions. This added stability means it is possible to use click systems at the joints so it's ideal for anyone looking for a floor they can install themselves. Providing you follow our How to Install Laminate Flooring guide, it really is simple to fit, particularly with the latest 5GS click joints.
The natural wood fibers within the HDF core of laminate flooring need to become used to the conditions of your home before it is installed. This is called the
Acclimatisation Period
. Even though more stable than wood flooring, laminate floors will still move slightly, so it is best to let your floor 'settle' into its new environment before you install it. We recommend a minimum of 48hours between receiving your laminate flooring and installing it, you can find out more about why it's important to acclimatise your floor in our
What is Acclimatisation guide.

Laminate Click Systems
With a machine profile, click systems make it easy to join each board to the next. Each 'male' joint is angled into the 'female' joint of the opposing board(fig: 1). Downward pressure is applied to lock the boards in place and form a secure and reliable joint (fig: 2). The system makes installation fast and easy and completely remove the need for gluing the boards together.
The majority of click joints are only found on the long edge of the plank meaning tapping the short ends of each plank together with a tapping block and hammer. However, our latest 5GS click systems also eliminate this step of installation, meaning the entire joining process can be carried out in one motion, making fitting your new laminate floor ever faster and easier. You can find out about our 5GS systems here
The Look of Laminate Flooring
The look of laminate floor is dependent on the printed decor layer meaning that any wood or stone look is possible. From really rustic natural oak looks to very contemporary grey and white tile finishes there is a huge choice available on our laminate pages, meaning that laminate can make a great addition to your home no matter what your interior style.
If you are looking for a laminate floor that provides character and a traditional feel, then consider a design with lots of colour variation and a pronounced bevel between each plank. For a more contemporary look, go for a more consistent tone and a less defined bevel, or none at all, between each board. You can find more information about how to get your look just right in our Inspiration Centre.
Living with Laminate Flooring
Laminate flooring is a really cost-effective way to introduce the look of natural flooring into your home and it is one of the easiest flooring types to look after. The AC Grade of your laminate floor will dictate how long it will last in your home and so careful attention should be paid to this when choosing your laminate floor. If you are looking for a hallway or living space and have a busy family, then consider an AC4 rated laminate, as this has been tested to be suitable for use in heavy domestic locations.

While tough, laminate flooring can be scratched and a good repair can be difficult, so make sure you use a good quality doormat at entrances to trap dirt and grit. Make sure you clean your mat regularly to get rid of dirt and keep your floor looking its best!

All laminate floors should be used alongside a suitable sound reducing underlay as this makes a huge difference, making the floor sound more natural and helping to deaden the sound of footsteps. We've a full range of sound reducing underlays in our accessories section or call one of our Personal Flooring Experts on 02476 012 840 who will be able to help you on the right underlay for your project.
Laminate flooring is really easy to look after, just needing regular vacuuming and mopping to keep it looking great. Most quality laminate floors feature an anti-static coating that will stop dirt clinging to the surface, making it even easier to get rid of. That said, stubborn scuffs and marks may need treating with a specialist spot cleaner. Spills should be cleaned up quickly, but thanks to the impervious resin top surface, laminate is really difficult to stain so makes a great choice for kitchens and dining rooms.
Where to use Laminate Flooring
Hard wearing, laminate flooring can be used in most areas of the home including dining and living rooms, hallways, kitchens and bedrooms. However, it is important to remember that it's still a natural product, so we do not recommend laminate flooring in bathrooms or any other high moisture environment.
If your home has underfloor heating, then laminate is also completely safe for use as it is stable enough to withstand direct heat. However, when turning on the underfloor heating for the first time, or after a prolonged period of being turned off, increase the temperature gradually over a period of days so that the floor can acclimatise to the change.
Laminate Flooring can be used safely in the following rooms:

That should be everything you need to know about laminate flooring from UK Flooring Direct, but if you have any more questions then don't forget our Education Centre is full of useful information. Or you can call one of our Personal Flooring Experts on 02476 012 840 who will be able to help you on the way to finding your perfect floor.